This weekend, Orlando Speed World hosted Round Two of the 2021 Formula DRIFT PRO Championship, as well as the opening round of the new PROSPEC Championship (formerly PRO2). This gave the capacity crowd its first opportunity to witness the new weekend format, which allows both PRO and PROSPEC drivers to qualify on Friday and compete on Saturday. With PROSPEC running in the middle of the day and PRO in the afternoon, both Championships have equal exposure to fans and the popular, free-to-view Formula DRIFT livestream.
Link Ecu Prospec Qualifying
The weekend allowed PROSPEC teams to experience the new Knockout Qualifying Format (KQF), which has the top seeded drivers run first, setting the standard for subsequent competitors. Drivers are only allowed one run to set their qualifying position, except the bottom eight drivers, who are allowed a second run. This gives teams who may have experienced technical issues, or had the run judged incomplete, to make it into the final 32 places.
FD ORL would see 35 drivers compete for 32 starting positions, which put additional pressure on the 16 rookies who joined the series. For many, Orlando Speed World was the first time they've experienced a banked track, which creates a unique challenge as drivers fight to control speed as they accelerate off the banking while maintaining a consistent drift.
On top of that, GT Radial is the Official Tire of the 2021 Link ECU PROSPEC Championship, with teams serviced by TireStacks at every round. And again, FD ORL would be the first time many drivers had used the new rubber under competitive conditions.
Qualification seeding for the opening round was based on 2020 Championship positions, so first to run was reigning champion Dmitriy Brutskiy (Belarus) driving his Essa Autosport/ISC Suspension BMW E46. As the 2020 title holder, Brutskiy had the opportunity to gain an FD PRO license this year, but decided to remain in the feeder series and gain more experience before jumping up to the premier category.
After a strong run, Brutskiy placed fifth in the final standings, with Nick Noback (USA) taking the top spot in his KoruWorks BMW E46. Awarded 94 points by the judges for style, angle and line through the course, Noback was head and shoulders above the competition. His nearest challenger teammate Blake Olsen (USA), who scored 88 points driving the KoruWorks/GT Radial BMW E92. Third place went to Tommy Lemaire (Canada) who scored 87 points in his TLO Drift School Nissan S14.5 V8.
Best rookie in qualifying was Rich Whiteman (USA) who put his Freedom Motorsports Toyota JZX100 in a very respectable sixth place, giving him a big leg up for Saturday's competition heats.
Link Ecu Prospec Competition Heats
Having qualified first, Noback would take his KoruWorks BMW E46 to the top step of the podium. His journey would see him get a bye run in the Top 32 competition heats as a result of several drivers being eliminated during qualifying. Noback's first battle would be in the Top 16 against rookie Alex Jagger (USA) in the Forsberg Racing/TireStacks Nissan 370Z. Both drivers pushed hard on their two runs, forcing the judges to call for One More Time (OMT), having them repeat both runs.
When they lined up again, Noback ran a superb lead run and made less mistakes in the chase position, getting good proximity in Outside Zone 1 and Inside clip 1. This was sufficient to sway the judges in his favor, allowing Noback to progress to the Top 8 where he faced Austin Matta (USA).
With an incredible lead run, Noback did enough to eliminate the Don't Matta Racing Nissan S14 and move onto the Top 4 to meet the reigning champion, Brutskiy. On the first run, Noback again did his best work in the lead position and maintained better proximity on his chase run, which propelled him into the Final.
With Brutskiy guaranteed third place by virtue of a superior qualifying position over fourth placed rookie Rich Whiteman. So Noback's KoruWorks BMW E46 only needed to beat teammate and second-place qualifier Blake Olsen (USA) in the KoruWorks/GT Radial BMW E92 to claim the trophy.
Their first run was a belter, with Noback again finding a great line throughout the course, while Olsen maintained good proximity. With the pressure on Olsen, he slid up into the wall on Outside Zone 1. And although Noback spun as he crossed the line, Olsen's collision had already ended the run and given Noback the win.
As a rookie in 2020, Noback scored his first win at FD ORL in the inaugural round of the 2021 Link ECU PROSPEC Championship. It was the end to a perfect weekend and a continuation of the momentum he established last year with a second place at the Final round at Irwindale Speedway.
"I'm stoked to have won against a great friend and teammate, Blake Olsen, after we qualified first and second," explained a stunned Noback after the podium ceremony. "I need to give a huge thank you to my family, KuroWorks and all our partners because we knew we had a great car but also knew we had some big battles. My strategy was to set perfect lead runs and get close enough on the chase runs to collect the wins. So, we turned it up a little during the heats but made sure we didn't run out of tires, and managed to come out on top. I can't wait for the next round!"
All three of the Round One Link ECU PROSPEC podium places were occupied by BMW drivers. The top Rookie, Rich Whiteman, was fourth driving the Freedom Motorsports Toyota JZX100.
Pro Qualifying
With the repeated absence of Ryan Litteral (USA) in his Powerstop Brakes Nissan S15, the remaining 32 FD PRO drivers were guaranteed a place in the competition heats provided they were able to complete a qualifying run. And while three were judged incomplete on their first run, all advanced via a second run in the KQF bottom 8.
The top 20 qualifiers were separated by a mere 12 points, with the top five scoring the same 94 points. With the judges scoring on style, angle and line, priority is given to the driver with the highest style score. And where there's a tie, priority goes to angle. And that's how Chelsea DeNofa (USA) became the top qualifier in his BC Racing/Nitto Tire Ford Mustang RTR Spec 5-D.
He beat Justin Pawlak (USA) in the Falken Tire Ford Mustang by one angle point, while Fredric Aasbo (Norway) was third driving the Rockstar Energy Drink Toyota GR Supra.
The 2021 FD PRO Championship leader, Aurimas Bakchis (Lithuania) qualified fourth in the Falken Tires/Feal Suspension Nissan S15, with reigning FD PRO Champion, Vaughn Gittin Jr (USA), and teammate to DeNofa, in ninth driving the Monster Energy Ford Mustang RTR Spec 5-D. The top Rookie driver, 17-year-old Branden Sorensen (USA), qualified in a very impressive sixth position driving his 212 Performance/Sorensen Motorsports BMW.
With two championships running on the same day, the PRO teams run into the evening, requiring all to use undercar LED lighting supplied by Official Lighting Partner, TYPE S.
Pro Competition Heats
Mimicking the PROSPEC Championship, Chelsea DeNofa won Round Two of the FD PRO Championship following his first place qualifying position. But the driver of the BC Racing/Nitto Tire Ford Mustang RTR Spec 5-D didn't have an easy path to the podium.
His first match up was against Joshua Reynolds (USA), who unfortunately ran his Drift Force/Nexen Tire F22 Eurofighter BMW into the wall shortly after initiation. The team called for a five-minute Competition Time Out but was unable to make the repairs in time.
Moving into the Top 16, DeNofa faced Travis Reeder (USA) in the Travis Reeder Motorsports/Link ECU BMW M3. The heat began with DeNofa in the lead position setting a blistering pace, but Reeder dug deep, making several corrections to maintain proximity through the course. On the second run, Reeder executed a lead run good enough for the judges to request OMT, unable to separate them.
On the repeat runs, both drivers gave everything but DeNofa discovered another gear to achieve incredible proximity in the chase position, securing the win.
Moving into the Top 8, DeNofa met teammate, boss, and reigning FD PRO Champion Vaughn Gittin Jr (USA) in the Monster Energy Ford Mustang RTR Spec 5-D. With identical cars and overflowing aggression, these two never disappoint, so DeNofa led the first run at a frantic pace, which appeared to catch Gittin by surprise. He then ignored social distancing protocols and climbed all over the Champion in the chase position, guaranteeing his place in the Top 4.
Facing the Round One winner and Championship leader, DeNofa used similar tactics against Aurimas "Odi" Bakchis (Lithuania) in the Falken Tire/Feal Suspension Nissan S15. Another hard charger, DeNofa knew he couldn't show any mercy to Bakchis, who made a slight mistake on his chase run in the difficult transition zone. With the positions reversed, DeNofa again got closer, breathing down the neck of Bakchis to win the heat.
His opponent in the FD PRO Round Two final would be 2015 FD Champion, Fredric Aasbo (Norway) in the Rockstar Energy Drink Toyota GR Supra. His Top 4 heat drew him against Justin Pawlak (USA), driving the Falken Tire Ford Mustang. Qualifying in second place gave Pawlak the lead position on the first run and he set off fast, creating a smoke screen that proved impossible for Aasbo to negotiate, forcing him to leave the course rather than crash.
What wasn't immediately apparent was that Pawlak's tire smoke was bolstered by smoke from a blown engine. Realizing he had a problem at the start of the run, he decided to "stay on it because the engine was still making power." While his bravado entertained the fans, track officials had to clear an oil slick that ran the length of the course and was pooled across the start line.
After a valiant effort and repositioned start line, the Final commenced with Pawlak retired and DeNofa leading Aasbo into the first turn. Both drivers had taken a sighting lap to assess conditions and Aasbo seemed understandably circumspect as he initiated in Outside Zone 1. DeNofa had no such qualms and gapped the Norwegian champion throughout the course.
With the positions reversed, DeNofa was again able to share exactly the same piece of asphalt as Aasbo throughout the run and promised to meet his mother once they crossed the finish line. With incredible proximity throughout the evening, DeNofa deservedly won the heat and Round Two, elevating himself from 14th to third place in the 2021 FD PRO Championship.
"Orland Speed World went really well," DeNofa told us after the podium celebrations. "I qualified first thanks to good style points. That meant I lead my heats for the entire event, so it required a different strategy to ensure we had enough tire on the chase run. Throughout all the battles, it was about having a good balance between aggression and style while maintaining the tires. This track is long and abusive on the right rear tire, but if you drive it right, you can maintain enough to get the job done. The banking is one of the most difficult to chase on, so I left some room on entry before closing the gap. But I sealed the deal by diving in at Inner Clip 2 and getting on their door to finish rubbing tires across the finish line.
"We stuck to the plan all weekend and made some changes to the car because everybody is getting so fast we had to keep increasing the power and grip to remain competitive. And the team did a phenomenal job, putting in a lot of effort all weekend. So, it feels great to finish in first place and score maximum points after not doing so well in FD Atlanta. I'm super-pumped to be back on the podium after qualifying first and finishing first, which gives us momentum heading into the new track in New Jersey."
With Aasbo finishing second, Pawlak placed third and Bakchis finished fourth, retaining his lead in the 2021 FD PRO Championship. Top placed FD PRO Rookie was Simen Olsen (Norway) driving a Toyota GR Supra who finished 15th.
For the final word we turn to Formula DRIFT President, Jim Liaw, "It was an epic day in the history of Formula DRIFT since it was the first time we've run two Top 32 Championships in one day. We were grateful for the perfect weather all weekend and to see a capacity crowd – more than we've ever had at this venue. We're thankful that the fans have stuck with us through this difficult time and were amazed at the energy levels throughout two full competitions. It's a great sign for our 18th PRO season and the new PROSPEC Championship. We really missed the fans last year and it's great to have so many come out to support us this weekend. It's set a new bar for this venue, the Championships and the 2021 season. And we can't wait to see everybody at the brand-new Englishtown drift stadium next month!"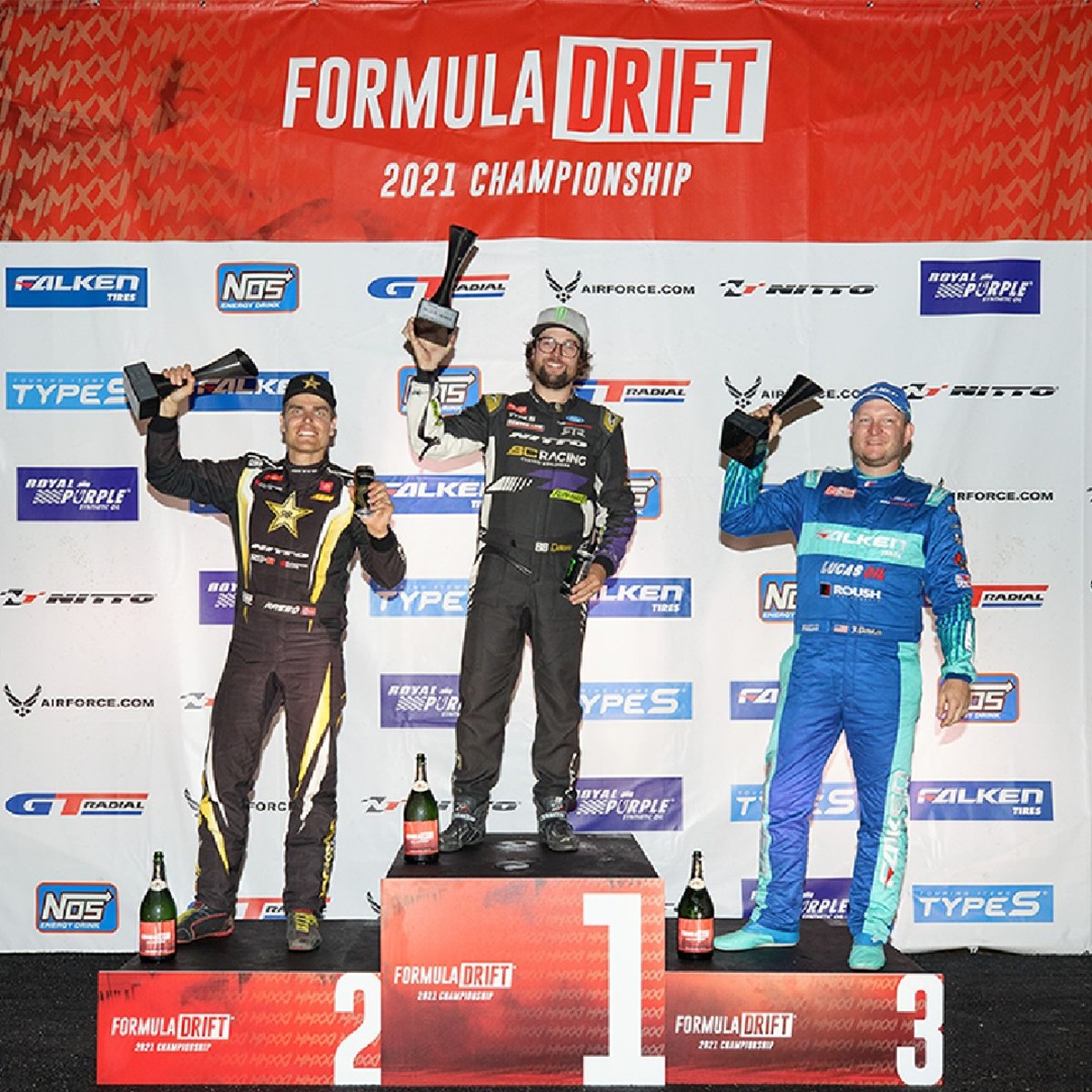 2021 Formula DRIFT Championship Results
Round Two FD Pro Top 16 Driver Points
Chelsea DeNofa (100 points)
Fredric Aasbo (91 points)
Justin Pawlak (80 points)
Aurimas Bakchis (80 points)
Matt Field (67 points)
Vaughn Gittin Jr (67 points)
Kazuya Taguchi (67 points)
Deane Kearney (67 points)
Ryan Tuerck (52 points)
Chris Forsberg (52 points)
Jeff Jones (52 points)
Travis Reeder (52 points)
Dan Burkett (52 points)
Alec Robbins (52 points)
Simen Olsen (52 points)
Yves Meyer (52 points)
2021 FD Pro Championship Top 16 Standings
Aurimas Bakchis (180 points)
Matt Field (158 points)
Chelsea DeNofa (152 points)
Justin Pawlak (147 points)
Vaughn Gittin Jr (147 points)
Fredric Aasbo (143 points)
Dean Kearney (134 points)
 Jeff Jones (132 points)
Kazuya Taguchi (119 points)
Yves Meyer (119 points)
Ryan Tuerck (104 points)
Travis Reeder (104 points)
Adam LZ (102 points)
Branden Sorensen (87 points)
Chris Forsberg (87 points)
Jhonnattan Castro (87 points)
2021 Auto Cup Top Five Standings
Ford 327 points
Toyota 247 points
Chevrolet 158 points
Dodge 134 points
Nissan 87 points
2021 Tire Cup Standings
Falken Tire 351 points
Nitto Tire 338 points
Nexen Tire 253 points
GT Radial 251 points
Federal Tire 191 points
Round One Prospec Top 16 Driver Points & Championship Standings
Nick Noback (100 points)
Blake Olsen (91 points)
Dmitriy Brutskiy (80 points)
Rich Whiteman (80 points)
Tommy Lemaire (67 points)
Joshua Love (67 points)
Cory Talaska (67 points)
Austin Matta (67 points)
Evan Bogovich (52 points)
Ben Hobson (52 points)
Josiah Fallaise (52 points)
Alex Schlagel (52 points)
Amanda Sorensen (52 points)
Alex Jagger (52 points)
Daniel Stuke (52 points)
Kelsey Rowlings (52 points)
Next Round
Old Bridge Township Raceway Park in Englishtown, NJ, will host Round Three of the Formula DRIFT PRO Championship and Round Two of the Link ECU PROSPEC Championship on June 18-19. Please visit formulad.com for the competition schedule, ticket information, driver profiles. special content, and the event livestream.
For access to exclusive gear videos, celebrity interviews, and more, subscribe on YouTube!