Every major golf tournament makes history in some way; that's just the nature of these events. When you bring together the best players in the world on some of the most difficult courses in golf, you're bound to get some unforgettable moments. Even so, Phil Mickelson's win at the 2021 PGA Championship on Sunday feels extra special.
It's not just because of Mickelson's stature as the second-best player of his generation and the sport's most popular pitchman outside of Tiger Woods. And it's not just because of the incredible scene around the 18th green on Sunday, as thousands encircled Mickelson to watch him hit the putt that won him his 45th tournament:
It's because of the effort it required and how unlikely it felt coming in, as well as the brutally difficult stage on which Mickelson delivered. He won his fifth major in 2013 at the Open Championship, and he'd spent much of the time since then making it look like he'd never win another. As it turns out, he couldn't have picked a more impressive way to finally get No. 6.
At this stage in his career, Mickelson might be the most unexpected major winner ever.
Before Sunday, the oldest player to ever win a men's major championship was 48-year-old Julian Borros, who won the 1968 PGA Championship at Pecan Valley in San Antonio. Mickelson, who turns 51 in June, now holds that title. But it's not just Mickelson's relatively advanced age that makes this a historic, and surprising, result.
The last time Mickelson finished better than a tie for 18th in a major was at the 2016 Open Championship at Scotland's Royal Troon. Mickelson was brilliant that week and finished 17 strokes under par, 11 shots clear of third-place finisher J.B. Holmes. The problem was that he ran into an even more dominant force in Henrik Stenson, who won the Claret Jug at 20 strokes under par. After that, Mickelson failed to make a mark at the Masters, U.S. Open, PGA Championship, or subsequent Open Championships.
He finished tied for 21st at this year's Masters, which seemed like an incredible effort. But for the first time since 1993, he didn't qualify for the U.S. Open, which will be held in June near Mickelson's hometown of San Diego. He had to accept a special exemption to play, which felt like the tournament's organizers giving one last nod to a legend on his way out. (He didn't need it: He just qualified by winning the PGA.)
As recently as last year, Golf Digest's Shane Ryan was suggesting (with good reason) that Mickelson stop playing PGA Tour events and try to make history by winning a bunch of tournaments on the senior tour, the circuit reserved for former stars who can't hack it on the main tour in their old age. It just didn't seem like Mickelson would ever again take on the best players in the world and beat them—until this week, when he did.
He stared down Brooks Koepka, this era's scariest major player, and won.
Mickelson entered the final round at seven strokes under par for the tournament, which put him one shot ahead of Koepka, his playing partner in the final pairing of the day.
In the last five years, while Mickelson has faded from the picture, Koepka, 31, has established himself as the golf world's best player, especially in major tournaments. Starting with the 2017 U.S. Open at Erin Hills, he has won four majors, including the 2018 and '19 PGA Championships. Koepka has built a reputation as a killer in crunchtime. He knows how to play his best golf in high-stakes events.
Koepka birdied the first hole on Sunday, and Mickelson bogeyed it, briefly flipping their positions and giving Koepka a one-shot lead. But Mickelson recovered after that, and Koepka slowly slipped from contention, missing putt after putt until Mickelson had built a big lead. Koepka made things interesting in the final few holes but couldn't catch up, and Mickelson won by two shots.
The narrative entering Sunday was that Koepka was a silent killer whose prowess in majors and superior athletic talent would be too much for Mickelson. That clearly wasn't the case.
Mickelson accomplished all of this on an incredibly difficult golf course.
The PGA of America, the organizing body of the PGA Championship, set up the Ocean Course to be the longest course in the history of major championships. Measuring 7,876 yards, the course's distance seemed to favor a new generation of big hitters who can drive the hell out of the ball off the tee.
That's not Mickelson's style. He entered the week at 193rd on the PGA Tour this season in strokes gained off the tee––a measurement of how much a player improves his score with each shot. He was also ranked 50th in average driving distance.
It didn't matter. Mickelson deftly navigated the Ocean Course. Because it's located right next to the Atlantic Ocean, conditions were windy throughout the week, and nobody proved better at dealing with the elements than Mickelson. He wasn't great off the tee, but he hit tremendous approach shots into the course's perched greens, and when the rest of the field made too many mistakes to mount a Sunday charge, he never blinked. Now Mickelson has a sixth major championship to show for it.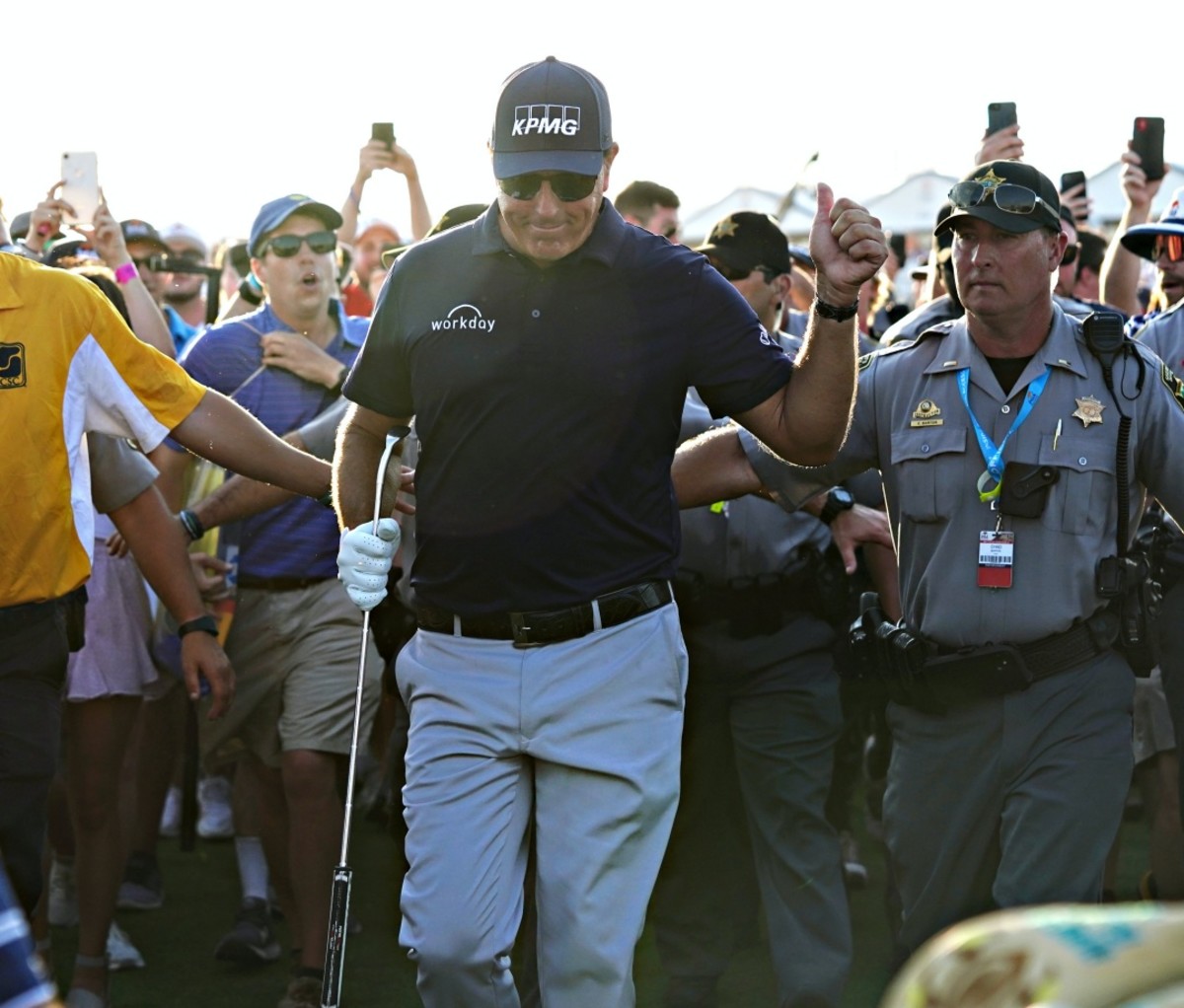 For access to exclusive gear videos, celebrity interviews, and more, subscribe on YouTube!