You already know that meat plus fire equals magic. Now is the season to marinate in these next-level secrets to raising your grill game. Here are the top tips for better BBQ.
Illustration by Aaron Meshon
First, Buy Quality Meat
The "manager's special" bin at Meat Mart is fine if you're just flipping some sliders. But to join the grill-master pantheon, look to higher powers.
1. American Wagyu Steaks From Snake River Farms
Sure, you might need to remortgage to fund feeding a crowd with filets and strips from the Idaho-based sorceror ranchers at Snake River Farms. So get a load of that deep marbling and buttery tenderness and call the bank already!
2. King Crab Legs From Pike Place Fish Market
Yep, Pike Place Fish Market, the Seattle seafood purveyor that famously tosses fish can also toss you (via Goldbelly, that is) the kaiju-size crab legs and claws you've seen hauled out of the deadly Bering Sea on TV.
3. Pork Ribs and Shoulders From White Oak Pastures
If you're into pastured Old World pork breeds, such as Berkshire and Tamworth, then this hog-coddling Georgia family farm is for you. To put it another way, do you like pork that actually tastes like something?
4. Turkey Wings From Heritage Foods
Face-size turkey wings cook so well on the grill or smoker, and since guests crowd around for the next batch, you don't need to provide plates! Pssst, each order from Heritage Foods also includes two meaty tails to hoard for yourself.
Yes, You Can Smoke That!
The urge to smoke doesn't stop with turkeys and Boston butts. For your next cookout, go for a little strange on the side.
1. Eggs
Science alert: Eggshells are permeable, resulting in a mahogany, bacon-flavored hard egg fantastic for boosting the flavor of deviled eggs and potato salad. How: Place raw eggs (in the shell) directly on the grate of a 160°F smoker for 30 to 60 minutes.
2. Olives
Take your charcuterie board to the next level with some smoky-salty olives. How: Spread out a mix of pitted, brined olives, green and black, on a metal pan. Add to a 225°F smoker. Check for desired flavor after 30 minutes; leave up to 2 hours for max smokiness.
3. Butter
Awesome spread on toasted buns or grilled corn; one taste of smoky butter will cement your status as a smoker savant. How: Cut up good butter and place in a metal bowl. Add to a 225°F smoker for 3 minutes at full smoke. It will melt a bit, but chill and then stir to fluff up.
4. Cabbage
Banish bitterness and transform cabbage into a moist, tender treat. Simply toss in a favorite dressing, or shred to make the best slaw ever. How: Cut in wedges. Coat in olive oil, salt, and pepper. Add to a 250°F smoker until outer leaves are blackened on the edges, about 3 hours.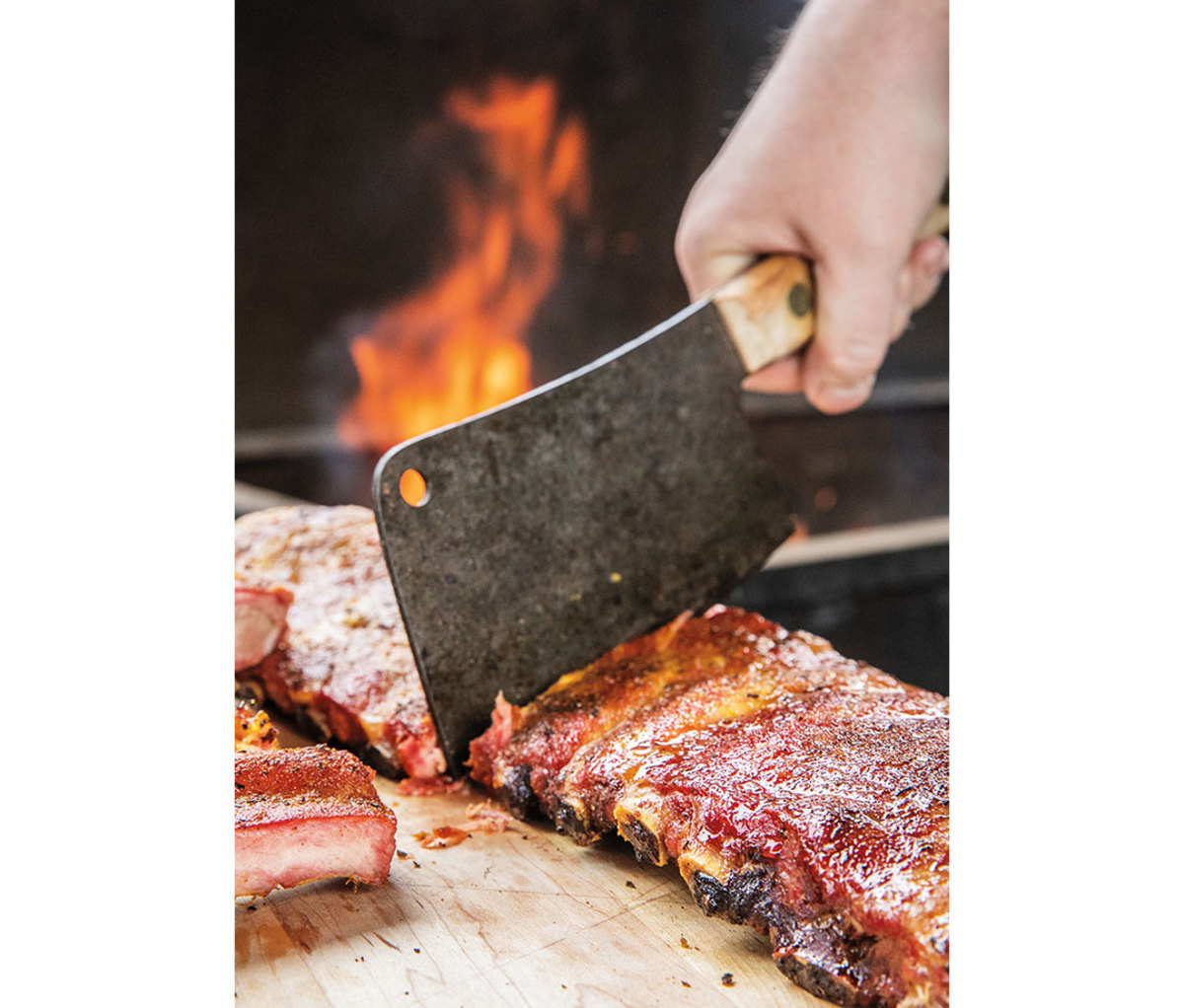 Stop Overcooking Your Ribs…and Other Rules for Better BBQ
There's your neighbor who grills ribs on Memorial Day, and then there's John Vergos, whose family runs the Rendezvous in Memphis, the BBQ institution that invented dry rub in the 1950s and is regarded by many 'cue nerds as serving the best damn pork ribs in the country. We asked Vergos for some rib-cooking pointers, and, surprisingly in a culture obsessed with secrecy, he didn't hold back. You can apply his advice to a full recipe available on mensjournal.com.
1. Stay Sane About the Membrane
Tongs duels erupt over whether peeling away the white membrane before grilling flavors or dries out meat. Vergos says it really doesn't matter. The Rendezvous leaves it be, as would you if you cooked 1,000 slabs a day.
2. GRILL BONE-SIDE DOWN FIRST
Keeps the meatier side from sticking to the grill when raw. Yeah, that makes sense.
3. GET BASTED
After the slab is browned, flip every 30 minutes or so and baste to moisten the meat. Apple cider vinegar is a typical baste base. The Rendezvous uses white vinegar spiked with (pro tip alert) dill pickle juice!
4. DON'T OVERCOOK YOUR RIBS!
Heed these words: Cook until meat falls off the bone and you've cooked off the best flavor. "If your emphasis is on sauce instead of the meat, you can cook them forever," says Vergos. "But since you eat ribs with your hands, there should be a tug to the meat, and a little pink inside."
5. RUB LAST
Apply dry spice rub to raw ribs pregrill if you want. But you must apply a final baste and then plenty of dry rub just before serving. Formulas abound, but for a taste of the Rendezvous, deploy plenty of paprika, garlic powder, kosher salt, and yellow mustard seeds.
1. California
Style: Tri-tip beef cooked "Santa Maria" style on an Argentine grill over red oak embers for about 2 hours, sliced thin, and served with salsa.
2. Puerto Rico
Style: Whole hogs spit-roasted over charcoal and macheted into heaping, succulent portions.
3. Texas
Style: Sliced brisket smoked over pecan or post oak, "hot gut" sausages, Flintstones-esque beef ribs.
4. Kansas City, MO
Style: You got it, they'll smoke it over hickory, especially fatty brisket nubs turned into crunchy "burnt ends" splashed
with thick tomato molasses sauce.
5. St. Louis
Style: Distinctly trimmed rib racks served with sticky-sweet tomato-based sauce.
6. Memphis
Style: Paprika-rubbed pork rib slabs and smoky pulled pork shoulder sandwiches with optional tomato-based
sweet sauce.
7. New Orleans
8. Alabama
Style: Hickory-smoked pork shoulder and chicken, smothered in thick, mayo-vinegar white sauce they swear
isn't gross.
9. Mississippi
10. Western Kentucky
Style: Hickory-smoked mutton served with Worcestershire-ish sauce.
11. New York City
12. Virginia
13. Eastern North Carolina
Style: Whole hog or shoulder mopped (basted) with thin, peppery vinegar sauce and finely chopped for sandwiches.
14. South Carolina
Style: Pulled whole hog served with—say what now?—a tangy mustard-vinegar sauce, aka Carolina Gold.
15. Georgia
16. Florida
For access to exclusive gear videos, celebrity interviews, and more, subscribe on YouTube!