The electric pickup wars are heating up, and a new competitor has rolled onto the scene: Ford just unveiled the F-150 Lightning, an electric version of its vaunted F-150 pickup. The gas-powered F-150 has been the best-selling pickup in America for decades, and the release of a battery-powered version is a clear sign the future of the automotive industry is electric. And Ford isn't planning on losing any ground to upstarts in the auto industry: The Lightning has tons of storage space, can power a house, and starts at under $40,000, a very attractive price point for an electric vehicle.
In terms of raw power and capability, the Lightning definitely isn't a compromise compared to its internal combustion forebears. The truck's dual motors create 563 horsepower and 775 lb-ft of torque—well beyond any previous F-150—and all-wheel drive is standard across the lineup according to Ford. When equipped with the optional extended-range battery, that should be enough oomph to get the truck from zero to 60 mph in around 4.5 seconds.
Of course, drivers generally don't buy a pickup for its neck-snapping speed; they buy one to tow and haul stuff. While heavy cargo presents a challenge for electric vehicles (it can make a serious dent in the vehicle's range), Ford has optimized the Lightning for hauling. With the standard battery setup, the truck should get around 230 miles of range, and the extended-range battery pack boosts that number to 300 miles. The standard-range model can carry up to 2,000 pounds of payload and tow 7,700 pounds. The extended-range version sacrifices some payload capacity (maxing out at 1,800 pounds) but can tow up to 10,000 pounds on a trailer. Overall, those numbers compare favorably with gas-powered versions of the F-150.
If the stats alone don't convince you, Ford also loaded the truck with software to help combat range anxiety, the key gripe buyers have about electrics. Many of these features will come in handy while towing and hauling, including a built-in scale that can weigh your cargo and an Intelligent Range feature to estimate how far you can go while pulling a load. Whether you're towing a boat or lugging camping gear to a campsite, the Lightning won't disappoint.
The Lightning also showcases many of the unique benefits of going electric. In place of an engine compartment, you get a cavernous "frunk" storage area with 400 liters of volume that can carry up to 400 pounds of gear. It's also studded with electrical and USB outlets to keep your devices charged—ideal for working on a job site or tailgating. Out back, the bed comes with multiple charge points as well.
And yes, the Lightning can even power your house. Ford will throw in an 80-amp home charge station with every truck, and once installed, it can pull up to 9.6 kilowatts of juice out of the truck's batteries—enough to power the average home for three days. When you're not using the Lightning to power your blender and TV, the charge station can fully power up the truck in about eight hours. On the road, the Lightning has access to the FordPass network of charing stations, which comprises about 63,000 plugs nationwide.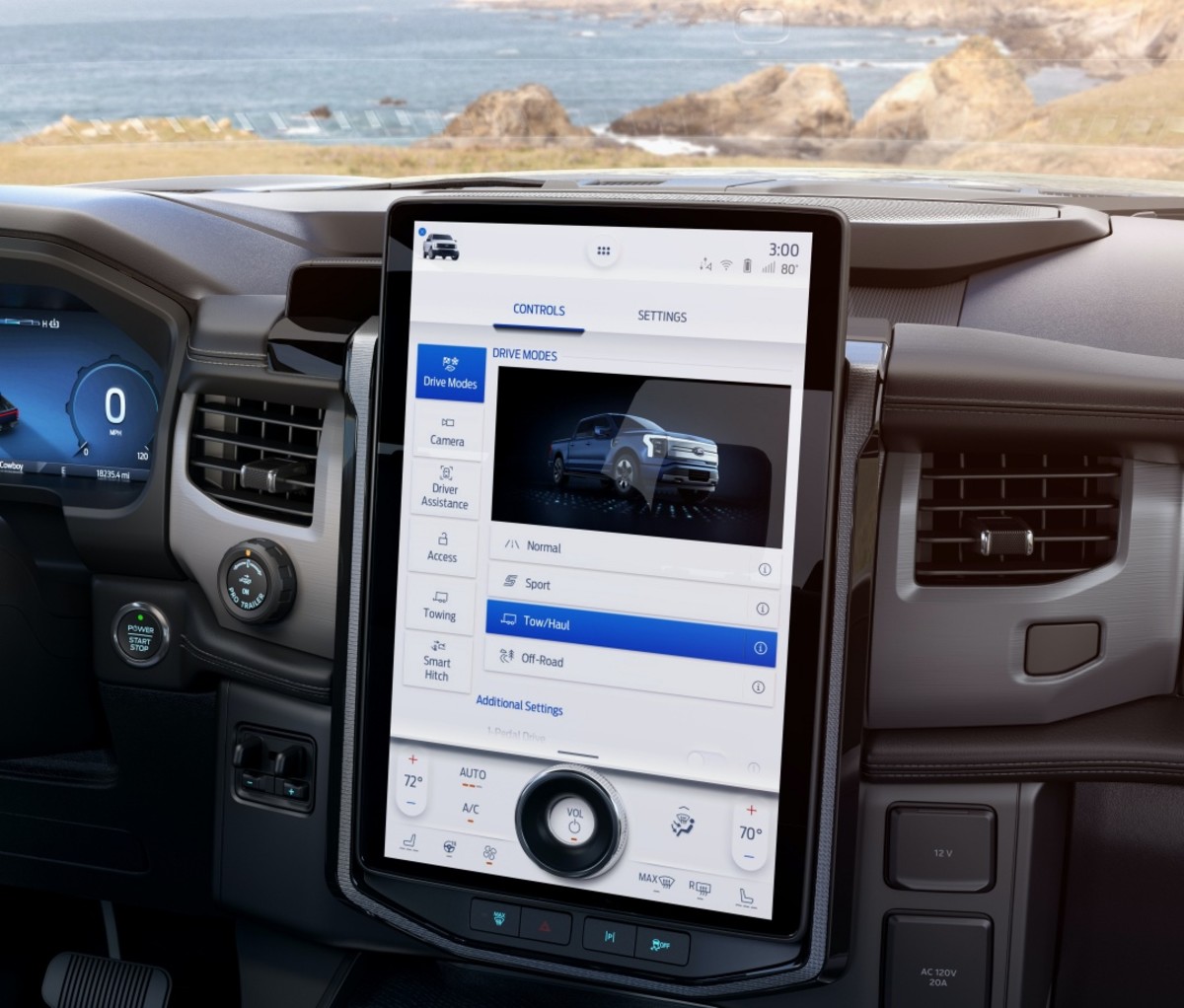 The Lightning comes with plenty of tech in the cab as well. The centerpiece is a 15.5-inch touchscreen compatible with Apple CarPlay and Android Auto for seamless syncing to phones. You'll also get some of Ford's latest driving assistance features, including BlueCruise, which allows for hands-free cruising on over 100,000 miles of qualified highways in the U.S. and Canada.
A pickup that can tow a camper, operate as a backup generator when your power goes out, and even steer itself on the freeway—this is definitely not your dad's F-150.
Ready to grab yours? Prices start at $39,974, and you can reserve one with a $100 deposit on Ford's website.
For access to exclusive gear videos, celebrity interviews, and more, subscribe on YouTube!